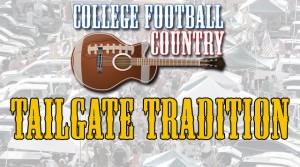 Every week on College Football Country, we take you around the nation to find out more about one of the things that makes Saturdays so great: tailgating.
With this weekend's matchup between Notre Dame and Michigan taking place in one of the greatest tailgating towns in the country, this week's College Football Country Tailgating Tradition comes to you straight from Ann Arbor, Michigan.
The Wolverines have one of the most passionate fan bases in the country – and this powerhouse program does not disappoint in throwing great parking lot parties.  One element of tailgating started 10 years ago when the Ross School of Business from UM was looking for a way to better connect their students, what better day to get everyone together than game day?
About 50 Ross students chipped in and purchased an old bus, better known today as the Ross Bus. They painted it maize and blue to look like a Michigan helmet; fixed up the interior a bit, and now the bus hosts one of the best tailgates before every home game! Everyone from the Ross School is invited to attend and, for a small cover fee, can enjoy the camaraderie and amenities only the Ross Bus can provide.
You can find the bus set up at 10am in the Fingerie Lumber Yard a few blocks from the stadium on game days and the party rocks until well after sundown. This year, in honor of the bus' 10th anniversary, a new dance floor was installed – you can bet those students will use it if the Wolverines can pull off the win on Saturday against the Irish!
If you're in the area for the game this weekend, stop by and check out this great UM tradition. If not, check out the Ross Bus' Facebook page and see what all the talk is about. The Ross Bus certainly is a great alternative to the library on a fall Saturday in Ann Arbor!