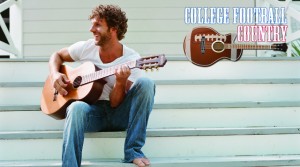 Billy Currington joins Clay Travis this week as the guest co-host on College Football Country.
The Mercury Nashville artist behind such hits as "Pretty Good at Drinking Beer" and "Must Be Doing Something Right" talks about tailgating, his new album We Are Tonight and "Hey Girl," his latest hit single – plus, we find out that Billy's also pretty good at drinking coconut water.
Also on this week's installment of College Football Country, a preview of the weekend's games, an interview with Georgia head coach Mark Richt and WestwoodOne Sports analyst Rocky Boiman stops by to preview Georgia-South Carolina and Michigan-Notre Dame.
College Football Country is the newest show added to our programming lineup. The one-hour program is co-hosted each week by a different country music star along with best-selling sports journalist and NBC Sports Radio host Clay Travis.