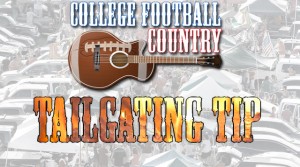 Every week on College Football Country, we take you around the nation to find out more about one of the things that makes Saturdays so great: tailgating. This week, we feature a recipe for Clemson's World's Best Blue Cheese Dip.
This week's tailgate tip takes us to Clemson, South Carolina, where the biggest game of the weekend will take place between the Clemson Tigers and Florida State Seminoles – and, rest assured, the tailgating in the Upstate will likely be the biggest and best too. But one food that is special to Clemson, surprisingly, is blue cheese.
While South Carolina is a far cry from France, the curing of the tangy cheese has been a tradition for more than 60 years. The cheese was first cured in the Stumphouse Mountain Tunnel, located in the Blue Ridge Mountains, in 1941 when an agriculture professor at the university noticed it would make the perfect cheese-making setting. The moist and humid conditions of the tunnel created wonderful blue cheese. Today, Clemson is responsible for creating about 43,000 pounds of the pungent cheese and provides much of it to Tiger fans.
One of the most popular ways to use Clemson Blue Cheese is in Clemson University's World's Best Blue Cheese Dip. To make this tasty and easy tailgate dip, you'll just need:
3 pints of sour cream
1 1/2 teaspoon of garlic salt
1 1/2 pints Hellmann's mayonnaise
3 cups of cultured buttermilk
3 wedges of "Clemson Blue" Blue Cheese
1 tablespoon of Worcestershire sauce
Simply break the blue cheese into crumbles and combine it with all the remaining ingredients in a bowl and mix well. Serve with carrots, celery, cauliflower, crackers, chicken wings or whatever suits you!
To turn this dip into salad dressing instead, just add buttermilk to your desired thickness – and voila! A delicious addition to your tailgate salads.