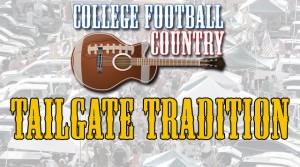 Every week on College Football Country, we take you around the nation to find out more about one of the things that makes Saturdays so great: tailgating.
Tailgating at the University of Tennessee has a special twist that most schools can't offer… arrival to the stadium by boat.
Each week, as many as 200 boats dock on the Tennessee River, which runs directly beside Neyland Stadium, and those on board put on one heck of a tailgate party – they even refer to themselves as the Vol Navy. You can find everything from small deck boats to ocean yachts parked outside the stadium on any home football game day and you can bet everyone there is having a great time! There are hot tubs, water slides, the best "boat-gate" food and, most importantly, some of the most passionate fans in all of sports.
The tradition is said to have begun in 1962 when former Volunteer broadcaster, George Mooney, used the river as an alternative route into the stadium to avoid the thick traffic surrounding Neyland. Considered such a great idea, a few boats followed suit, and in just a few years, the Vol Navy grew to be part of the regular tailgating experience for the university.
Even fans from opposing schools are welcomed to this unique experience –and while 100,000 fans can pack the stadium, many others remain on their boats and continue the party while keeping up with the game on televisions and radios.
With one of the biggest games taking place this weekend in Knoxville against the Georgia Bulldogs, here is a big salute to them—Ahoy, Vol Navy!