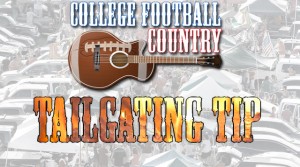 Every week on College Football Country, we take you around the nation to find out more about one of the things that makes Saturdays so great: tailgating. This week, we feature a recipe for Smoked Tri Tip.
Our weekly Tailgate Tip takes us to Eugene, Oregon, where
Pac-12 foes UCLA and Oregon will clash in a battle between the #12 and #3 teams in the country, according to the first week of the BCS standings. With predicted highs near 70 degrees and no rain in the forecast, you can bet Bruins and Ducks fans will take advantage of the perfect fall football weather and tailgating will be in full effect.
One interesting thing about tailgating at the University of Oregon is that it is such an eclectic tailgating experience filled with all kinds of food. Burgers here, gourmet mac-n-cheese there, smoked salmon somewhere else – as long as it's tasty, pretty much anything goes!
One particular dish caught our eye and that's the Smoked Tri Tip. What is a tri tip you may ask? It's the triangular shaped single muscle from the bottom sirloin. It's lean, delicious and can be cooked a number of ways. For this recipe, we're smokin' it.
You're going to need the following ingredients to yield 4-6 servings:
2-3 pounds of tri tip roast
2 teaspoons of salt
1 tablespoon of chili powder
1 tablespoon of ground cumin
1 tablespoon of fresh ground black pepper
2 teaspoons of onion powder
2 teaspoons of dried oregano
1 teaspoon of garlic powder
First, season your tri tip with the salt, one teaspoon per side and let it sit for a few minutes. You will then combine the remaining dry ingredients to create your rub – that's the chili powder, cumin, black pepper, onion powder, oregano and garlic powder. Use all the ingredients to thoroughly coat the tri tip roast and let it sit for about 30 minutes.
Next, place the seasoned roast in a heated smoker at a cooking temperature of about 225 – 250 degrees. A strong recommendation we've received is to cook the meat over red oak, which also contributes to the delicious flavor of the tri tips.
It's best to smoke for roughly 2 hours or until the meat's internal temperature reaches about 170 degrees. This will yield a medium rare tri tip. The experts warn that cooking past medium isn't a very good idea since the meat is so lean.
Remove the roast from the smoker and let it rest for about 20 minutes before slicing across the grain. If you want to turn the meat into sandwiches, slice it extra thin. The meat will be very flavorful because of the rub, but if you're still looking to add some flavor, throw a little BBQ sauce on there as well.