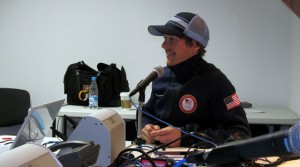 Being an Olympian is an honor all by itself, but being asked to carry the American flag during the Opening Ceremony takes it to another level. In Sochi, that task falls to six-time Olympian Todd Lodwick, who will once again compete in the Nordic combined.
Lodwick was part of the U.S. team that won a silver in a team event four years ago in Vancouver.
Prior to his big night, Lodwick sat down with our Today in Sochi co-hosts John Tautges and Kevin Kugler.
(Listen to Todd Lodwick's interview)

CLICK HERE for more information on WestwoodOne's coverage of the Olympic Winter Games from Sochi.