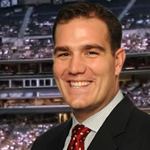 Ross Tucker is an analyst for Westwood One's coverage of the NFL on Sunday afternoons. Tucker joined the network as a sideline reporter for select primetime broadcasts in 2014.
Tucker is the host of the popular Ross Tucker Football Podcast, which you can listen to right here on WestwoodOneSports.com. A new episode is posted every weekday during the NFL season. CLICK HERE for the latest episode.
Ross also hosts a show on SiriusXM NFL Radio and is a contributor to Pro Football Talk on the NBC Sports Network.
Tucker graduated from Princeton in 2001 before embarking on a successful career in the NFL. In March of 2008, Ross retired from the National Football League after a seven-year career as an offensive lineman with the Redskins, Cowboys, Bills, Patriots and Browns.