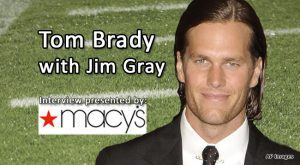 Patriots quarterback Tom Brady engineered the 32nd successful fourth-quarter comeback of his career on Sunday against the Cowboys.
New England (5-1) trailed 16-13 with 2:31 to go when Brady began an 80-yard drive that culminated in the winning touchdown pass to Aaron Hernandez with :22 left in the game.
In his weekly interview with Westwood One's Jim Gray, Brady talks about the win over Dallas, postgame handshakes, plans for the bye week and much, much more.
(Listen to Tom Brady's interview with Jim Gray from 10/17/11)
Throughout the NFL season, Tom Brady will be a weekly guest on the Monday Night Football pregame show with Westwood One's Jim Gray. The interview is presented by Macy's.
More of Tom Brady with Jim Gray
Tom Brady and the Patriots have played in an incredible 13 AFC Championship Games, with nine victories. In his weekly conversation with Westwood One's Jim Gray, Tom talks about his experience on this special day on the…
Read More »