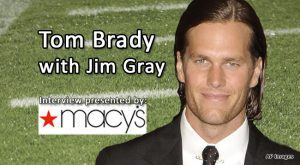 Trailing 21-7 midway through the third quarter of Sunday's game at Buffalo, last year's AFC champions were staring at a 1-3 record and a three-game losing streak.
Then it all turned around. Tom Brady and the Patriots rallied for 45 second-half points and ultimately left upstate New York with a 52-28 victory that evened their record on the season at 2-2.
In his weekly conversation with Westwood One Monday Night Football host Jim Gray, Brady talks about his team's big rally, their game this week against Peyton Manning and the Denver Broncos and much, much more – including his thoughts on yesterday's Ryder Cup finish at Medinah.
(Listen to Tom Brady's full interview with Jim Gray from 10/1/12)
Throughout the NFL season, Tom Brady will be a weekly guest on the Monday Night Football pregame show with Westwood One's Jim Gray. The interview is presented by Macy's.