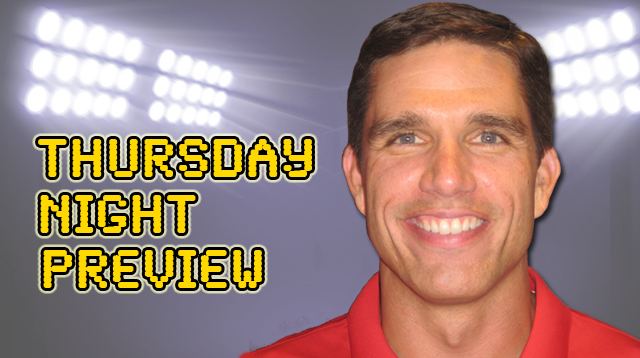 Week 13 kicks off tonight with an important NFC South matchup between the Atlanta Falcons and the New Orleans Saints. Our TNF analyst Trent Green filed this report:
MVP #1:
Matt Ryan is having the best year of his career. He is on pace to shatter his personal best numbers for passing yards, completion percentage, touchdowns and quarterback rating. The Falcons are tied for the best record in the league. Five of the Falcons' ten wins have come on 4th-quarter drives led by their fifth-year signal caller. The critics will point out Ryan's games against Arizona and Oakland, but it's about wins and losses. And those were both Falcons wins. Of the 10 wins for Atlanta this season, Matt's QB rating has been above 100 in eight.
MVP #2:
Drew Brees is not having a typical Drew Brees season. The Saints are 5-6 and his numbers are down across the board, although he's been coming on strong lately. We've obviously been spoiled by the standard that Drew has set because he is not having a bad year by any means, compared to the rest of the league. This season when I say MVP for Drew Brees, it means Most Valuable Person. We all know what he did for the city of New Orleans and the Saints after Hurricane Katrina. What has been impressive this year has been his ability to keep the city, organization and team together during all of the turmoil of the bounty investigation. Management, coaches and players have all been involved in the investigation and it has been Drew that has kept the players on the field focused on football.
Dome memories:
Some of you may or may not remember that I was part of the 1999 Super Bowl-winning St. Louis Rams. Some may also remember that I started off that season as the starting quarterback, until a knee injury in the third preseason game put me on IR for the year. The Super Bowl that year was here in Atlanta, at the Georgia Dome, where tonight's Saints-Falcons game will be played. I have many great memories from winning the Super Bowl that year, but it was also difficult to watch from the sidelines. At tonight's game all of those memories will resurface.
– Trent Green
Former NFL quarterback Trent Green is Westwood One's Thursday Night Football analyst. Trent, Ian Eagle and sideline reporter Laura Okmin are in Atlanta to bring you all the action as the Falcons face the Saints. Coverage begins at 8 PM Eastern tonight.