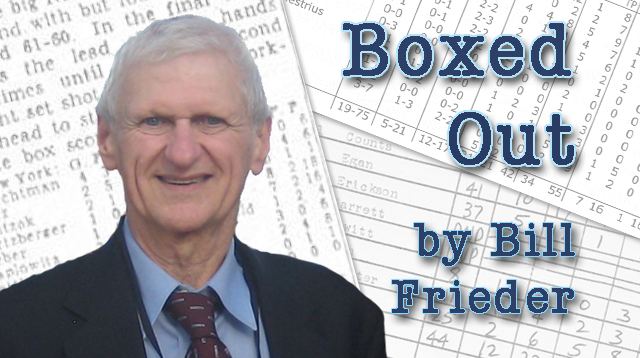 Well, it's finally on to the Final Four in Atlanta. Two from the Big East, one Big Ten team and Wichita State out of the Missouri Valley make up the field. In my opinion, Wichita wasn't a surprise in that everyone knew the West region was by far the weakest of the four. That said, the surprise was how easily they handled everyone. No one in the first two weeks could get any offensive rhythm against the Shockers and most shot in the 30% range, and even less than that from three. It was a great team display by Gregg Marshall's squad — and we'll get back to them in a second.
A B1G flop:
In my mind the Big Ten, which everyone including me touted as the best conference this year, was a big flop. I think I was duped after listening week after week about how tough it was going through the rugged schedule. Fans of the B1G can thank God for Michigan's Easter Sunday win saving some face for the conference. But in getting to Atlanta, the Wolverines needed a huge assist from Bill Self, who must have watched the Michigan-Wisconsin tape and picked up how not to defend the three when the game is on the line. All Kansas had to do was foul Trey Burke as he came across mid-court in regulation and it could have been the Jayhawks in Atlanta, not Michigan. But Burke hit the shot, and Michigan carried the momentum through overtime and then past Florida in a great display to get to the Final Four.
When compared to the conference's other exploits, Michigan is a shining light. Examples? Wisconsin's 46 points versus Ole Miss, Indiana managing just 50 against Syracuse and Michigan St. going 15 minutes in the second half with just one field goal speaks for itself. The bottom line is this: the Big Ten has won only one NCAA championship since 1989, so unless Michigan can get this one, there's not much to brag about as all the other power conferences have more (Yes, even the Pac-12 with UCLA in 1995 and Arizona in '97).
Will Louisville finally cut down some nets?
Louisville will be favored in Atlanta as they were there a year ago and have their whole roster back. Russ Smith and Peyton Siva are great guards and they have a great front line too. The Cardinals' pressure defense gave Duke problems, so everyone should be on alert. And clearly Louisville is on a mission, as the Cards refused to cut down the nets at Madison Square Garden after winning the Big East tourney and in Indianapolis last weekend. With that said, Rick Pitino's squad better not underestimate Wichita as this is a well-balanced team that is unselfish at both ends of the court. The Shockers are rugged, physical and play angry. They defend and rebound. Those ingredients are part of a winning formula, so watch out. Ask Gonzaga and Ohio St. if you don't believe me.
Great offense vs. great defense:
In the other game Saturday, it will be interesting to see if Michigan's firepower can solve the Syracuse zone as Jim Boeheim has a team of athletes that are long and have great length. They cover you high, trap in the corners and close in the middle quickly. But Michigan has the player of the year in Trey Burke and Mitch McGary has been playing lights out. This has the makings of a classic.
On the coaching carousel:
I have to say I was a little surprised at the hiring of Steve Alford at UCLA. Alford is a great guy and a good coach, but he has underachieved in the NCAA tourney. For a program that fired a guy that went to three Final Fours in 10 years, it doesn't make since to hire someone whose team just lost to #14 seed Harvard. I may be biased, but I would have like to seen them reach out to Steve Fisher. Steve owns the state of California—I can't remember a California school beating him including UCLA and USC. In fact, in the UCLA-SDSU game this year, Jamaal Franklin outplayed Shabazz Muhammad as the Aztecs dominated the Bruins. Steve is an outstanding coach, a great recruiter, has won a national championship and has by far the best tournament record in the Mountain West over the last five years. Don't take my word for it, check it out. Now, having said all that, I wish Alford all the best in his new challenge. Which leads me to my next point…
Give a guy time, people:
Is your school looking for its next coach? Or has it just hired a new guy? Well, listen up: remember that press conference don't win games and that the best hires aren't always the most popular choice on the day they're announced. Remember when Sean Miller was hired at Arizona and people questioned if he could recruit out West? Well, that has been answered. How about when Washington State hired Tony Bennett with no head coaching experience? People at NC State were so thrilled when Sydney Lowe was hired. Or how about Clyde Drexler at Houston? The buzz from hiring one of "your" guys can be great, but when it all shakes out, it's about wins and losses. So to all you fans — and all you ADs out there — give the new guy a chance!
Enjoy the Final Four everyone… I know I will.
— Bill Frieder
Former Michigan and Arizona State head coach Bill Frieder is an analyst for Westwood One's coverage of NCAA Basketball. In his weekly blog Boxed Out, Bill scours the box scores to bring you interesting stories from the world of college basketball. You'll be able to hear Bill throughout our coverage of the Final Four, beginning with the Final Four Show Saturday at 3:30 PM Eastern.