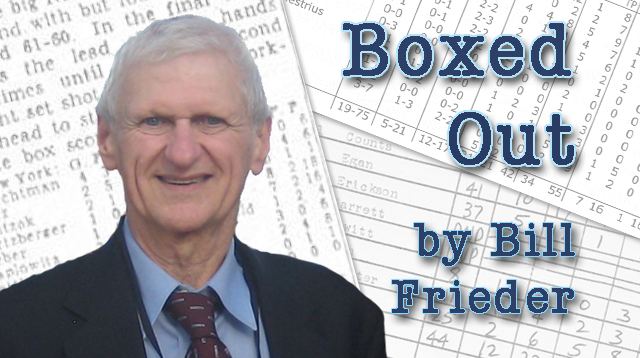 We are down to four unbeatens as Iowa State lost at Oklahoma and the Buckeyes lost two. So who's next? Well, Wisconsin plays three of the next four on the road and although they are playing second-tier teams, someone could get them – maybe even Indiana tonight. After playing rivals Arizona State, #1 Arizona goes to Colorado, so that could be tough. Syracuse has Pitt, Duke and Notre Dame coming up, but all at home, so they may avoid defeat at least until they go to Pitt on February 12th. Best chance to stay unbeaten the whole way is Wichita State, as they play in the weaker MVC. Stay tuned.
Meet Me in the Sweet Sixteen?
Want a sleeper Sweet Sixteen team? Look at St. Louis. The Billikens are 15-2 with two home games coming up. SLU's only losses are to Wisconsin and Wichita State. The road win at Dayton on Saturday was an eye-opener. What I like about Saint Louis is that in the past two years they have won NCAA Tournament games. In 2012, they won a tough one over Memphis and made Michigan State nervous before falling by four. Then last year, they cruised in their first game against New Mexico State and then fell to a hot-shooting Oregon team in the next round. Senior Dwayne Evans is a 6-6 force while Jordair Jett is another senior who gets it done in the backcourt. The Billikens go about eight deep into their rotation, have won nine in a row and when a guy like Jett, who hadn't scored more than 17 this year, goes out and gets you 31 on the road like he did at Rhode Island, you got some momentum. You shouldn't look too far ahead, but St. Louis now has four of its next five at home. The 15-2 record could be 20-2 on Feb. 2. You heard it here first…
Tip of the cap to Cincinnati
Remember these hires? Kelvin Sampson at Indiana. Greg McDermott to Iowa State. Bob Huggins to Kansas State. Herb Sendek at Arizona State. Mike Anderson to Missouri. Sydney Lowe to NC State. Jeff Capel to Oklahoma. Sean Sutton to Oklahoma State. All of those happened in the spring of 2006. Anyone realize Cincinnati is 15-2 and 4-0 in the American Conference? Understand the connection? That's also the year when Mick Cronin was hired at Cincinnati. The Bearcats already have wins over Pitt, Memphis and SMU. Senior Sean Kilpatrick causes problems for defenses as he gets to the free throw line and can hit three-pointers, while senior Justin Jackson gives them a great one-two punch. Mick Cronin is in his eighth season and quietly has put them in the NCAAs each of the past three years. All those names above made flashier headlines back in '06, but as it turns out, none was a better fit than Mick Cronin at Cincinnati.
Cream of the Cobbs
The best player in the Pac-12 right now, a league that has a bunch of great players, is probably Cal's Justin Cobbs. The team suffers a couple injuries, and all he does is average 19.3 points and 8.3 assists, and go 20-of-24 from the free throw line, in the Golden Bears' three road wins to start the league season. Yes, I said road wins. Cobbs had all 20 of his points in the second half Saturday in an 88-83 triumph at Oregon State, as the Bears came back from 10 down at the half. It marks the first time since the 2009 Cal has opened league play 3-0. Cal is going to be favored in its next three games as it hosts the Washington schools and then travels to USC. A 6-0 start for Cal is very possible right now. In a related note, let's just say the Pac-12 is looking pretty good, as right now you have four teams that can pretty much make NCAA Tournament plans in Arizona, Colorado, Oregon and California.
Just win, baby
During conference play, when players wear down and road wins are hard to come by, teams like Wisconsin and Michigan State methodically grind down opponents and pick up tough W's. While coaches and basketball purists may love to see this style of play, there is something special about watching a gunslinger get hot and carry his team to victory. On Sunday, C.J. Wilcox did just that, torching Colorado for seven three-pointers and a career-high 31 points in Washington's 71-54 win. Even more impressive, the Huskies turned around a three-point halftime deficit with the help of Wilcox's 21 second half points. The 6-5 senior is having his best season, averaging 19.8 points per game and shooting a scorching 42% from the three-point line. If Wilcox stays hot, the 11-4 Huskies will have a chance to snag a spot in the NCAA tourney come March.
– Bill Frieder
Former Michigan and Arizona State head coach Bill Frieder is an analyst for WestwoodOne's coverage of NCAA Basketball. In his weekly blog Boxed Out, Bill scours the box scores to bring you interesting stories from the world of college basketball.