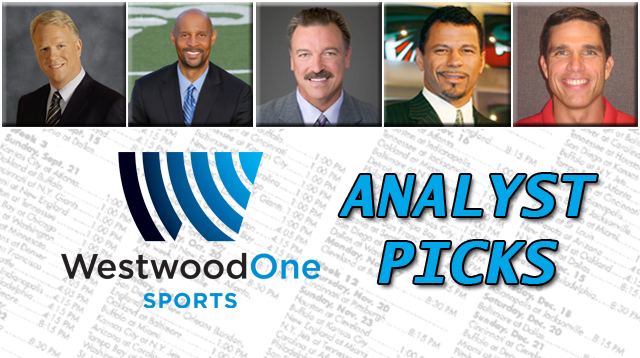 And so we've come to the end. Or the beginning. All how you look at it. Our analysts have made it through 17 weeks of NFL action and the regular-season standings shook out like this:
Boomer, 164-92
Mark, 163-93
James, 158-98
Rod, 157-99
Trent, 154-102
So before we get to the new rules for the playoffs, a hearty congratulations to Boomer Esiason on winning the regular-season race. But we don't put a wrap on this thing until the curtain falls on the NFL as a whole – and with a new playoff scoring system in effect, it's anyone's ballgame.
Here's the breakdown: each analyst's wins from the season are being converted to points (one for each correct pick all year long). And we're raising the stakes for the postseason – just like the stakes are raised on the field. For each correct pick during the first two weekends of the playoffs, our analysts will receive two points. For the conference championships, each correct pick will be worth four points. And correctly picking the winner of Super Bowl XLVIII on February 2nd? That'll be worth a whopping eight points. So just like the bonus round on your favorite game show, there's a lot of room to gain ground late in the game.
So who's going to step it up in crunch time? Here are our guys' Wild Card picks…
Game

Boomer

Esiason

James

Lofton

Mark

Malone

Rod

Woodson

Trent

Green

Kansas City @ Indianapolis

Colts

Colts

Chiefs

Chiefs

Chiefs

New Orleans @ Philadelphia

Saints

Eagles

Eagles

Eagles

Eagles

San Diego @ Cincinnati

Bengals

Bengals

Bengals

Chargers

Bengals

San Francisco @ Green Bay

49ers

Packers

Packers

Packers

Packers

LAST WEEK

13-3

12-4

13-3

11-5

12-4

OVERALL RECORD

164-92 (.641)

158-98 (.617)

163-93 (.637)

157-99 (.613)

154-102 (.602)

POINTS

164

158

163

157

154

 

 
Each week you can match wits with our NFL experts by seeing who they think will win seach game. We'll keep a running total of records throughout the year, so check back every week to see how your favorite WestwoodOne Sports analyst is doing.