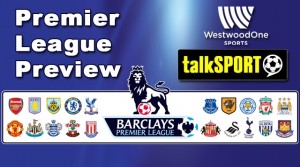 Ahead of the second weekend of Barclays Premier League action, Tom Rennie is joined by the former Manchester United, Stoke & Southampton defender Danny Higginbotham to look ahead to the weekend's matches – and reflect on a bad start to the season for Manchester United.
The former Fulham and Palace defender Matt Lawrence talks Liverpool following the Reds win over Southampton – and previews Aston Villa against Newcastle.
And talkSPORT presenter, and former Coventry and Newcastle striker Mick Quinn picks his three things to watch out for this weekend.
(Listen to the Barclays Premier League Preview for 8/22/14)
You can listen to EVERY Barclays Premier League game this season right here on WestwoodOneSports.com as well as on the TuneIn Radio App for mobile – search for 'talkSPORT'." This weekend's coverage starts Saturday at 7 AM Eastern with Aston Villa versus Newcastle United.