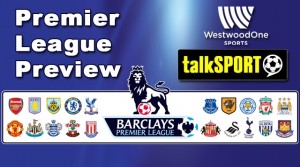 As the Barclays Premier League returns from the final international break of 2014, former Arsenal winger Adrian Clarke joins Tom Rennie on the Preview Show to look ahead to the Gunners match against Manchester United on Saturday. We also hear from another former Gunner, as Ian Wright gives us his take on what's happening at the Emirates.
We'll be hearing from all the key managers ahead of talkSPORT's international coverage of every Premier League match this weekend, including Manchester City-Swansea and Crystal Palace-Liverpool.
All that, plus Martin Devlin from Radio Sport New Zealand plays "Tom Against The World."
(Listen to the BPL Preview Show for 11/21/14)
You can listen to EVERY Barclays Premier League game this season right here on WestwoodOneSports.com as well as on the TuneIn Radio App for mobile – search for 'talkSPORT'." This weekend's coverage starts Saturday at 9:30 AM Eastern with Manchester City vs. Swansea.