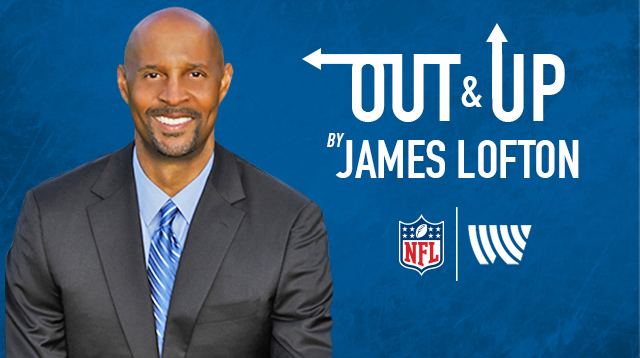 Each week, Hall of Fame wide receiver and Westwood One Sunday Night Football analyst James Lofton tells you about the teams, players and trends that are on the way out and those that are on the way up around the NFL.
DIG: For a wide receiver, the "dig" is the deep square in at 16 to 20 yards. But this past week, dig is what the folks in Buffalo had to do as parts of their city were hit with up to 70 inches of snow. The storm forced the Bills to move their home game to Detroit, the home of late owner Ralph Wilson. Let's give the Bills credit: they looked right at home in the Motor City, doing a number on the Jets with a 38-3 victory on Monday night.
OUT: Not even the best one-handed catch I can remember seeing – that out-of-this-world grab by Giants rookie Odell Beckham, Jr. – could keep the Giants in the playoff picture. Beckham's 10-catch, two-touchdown performance was matched by Dez Bryant's fourth-quarter heroics as the Cowboys find themselves back in the saddle and even with the Eagles. Meanwhile, the Giants dropped their sixth straight game and will be watching from the couch in January.
PICK: Normally offenses have plenty of pick plays to try and frustrate defenders, but sometimes the defense turns the tables. That's what Chargers defensive back Marcus Gilchrist did when he picked off Rams QB Shaun Hill at the goal line with time running out to keep San Diego's playoff hopes alive.
UP! As in, wake-up call. Patriots running back Jonas Gray probably realizes it wasn't all a dream when he ran for 201 yards against the Colts a week ago and ended up on the cover of Sports Illustrated. But you'd better wake up on time and follow the Patriots rules or you won't even get to step on the field a week later.
HOT: In reaction to an all-out blitz, the receiver will break off his route to a "hot." In this case, we're looking at the hot seat, where the owner will break off the contract of the head coach. Can you feel the warming trends in Atlanta and New York (take your pick, Giants and/or Jets)?
STOP AND GO: Colts QB Andrew Luck might have had his streak of 300-yard passing games stopped at eight, but that didn't keep the Colts from getting back on the winning track and keeping a firm lead on the AFC South with a win over the visiting Jags.
– James Lofton
Pro Football Hall of Famer James Lofton is the analyst for Westwood One's coverage of Sunday Night Football. This weekend you'll find James in Kansas City, where the Chiefs will host the Denver Broncos. Coverage begins Sunday at 7:30 PM Eastern.