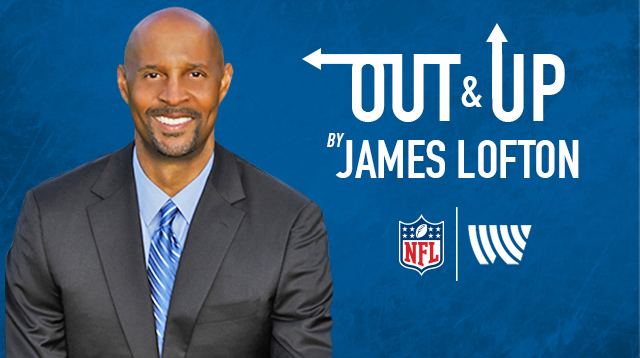 Each week, Hall of Fame wide receiver and Westwood One Sunday Night Football analyst James Lofton tells you about the teams, players and trends that are on the way out and those that are on the way up around the NFL.
FADE: All the hype. All the build-up. It all faded away before the first quarter was done. The final score put an exclamation point on the day, as the Bengals romped past the Cleveland Browns 30-0. Johnny Football has two weeks to make some progress, two games to give Browns fans a ray of hope for 2015. Of course, those two games are on the road at Carolina and Baltimore. Those teams aren't looking to next year. They have this year's playoffs in mind. PLAYOFFS!!!
OUT:  Out of the December doghouse for Tony Romo and the Dallas Cowboys. The Cowboys have played their best football on the road and outdoors. Their perfect 7-0 road record includes wins in Seattle, Chicago and Philly. Jerry Jones might want to think about keeping that roof open come playoff time. PLAYOFFS!!!
UP! Peyton Manning, Tom Brady, and Andrew Luck. The Big Three in the AFC all locked up divisional crowns on Sunday. The Pats have won the East six times in a row. The Broncos have been atop the West for four straight (the first with Tim Tebow under center) and the Colts have now won the South in back-to-back seasons. Next up, a couple of weeks to determine who gets Wild Card weekend off as the playoffs begin. PLAYOFFS!!!
STOP: The 49ers lost their third straight game and have been eliminated from the playoff race. That also stops their streak of three straight NFC Championship appearances. Unless it is in the NFC South, 7-7 isn't going to get a team in the NFC anywhere near the playoffs. PLAYOFFS!!!
COMEBACK: When you're down you try and mount a comeback – in life, sports or politics. In DC, playing quarterback is on par with holding office. Right now it's all about RGIII. The weight of the world is on his shoulders every week at every turn. His press conferences are picked apart and discussed more than anything on Meet the Press. Sure Washington didn't win this week, but RGIII's approval rating went up and on Capital Hill I heard somebody talking about 2015 and Playoffs. PLAYOFFS!!!
– James Lofton
Pro Football Hall of Famer James Lofton is the analyst for Westwood One's coverage of Sunday Night Football. This weekend you'll find James in Arizona, where the Cardinals will play host to the Seattle Seahawks. Coverage begins Sunday at 7:30 PM Eastern.