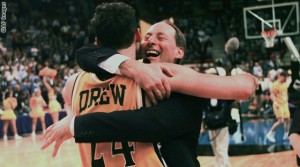 The father-son duo of Homer and Bryce Drew certainly had upset on their minds when 13th-seeded Valparaiso took on fourth-seeded Ole Miss in the first round of the 1998 tournament.
But they probably didn't guess it'd come down to a final inbounds play that has become one of the most memorable buzzer beaters in the history of the NCAA Tournament.
The Crusaders trailed by two points and had to go the length of the floor, but a play called "Pacer" did just the trick and sent Valpo to the next round.
Kevin Kugler has the story.
(Listen to Great Moments in Tournament History: Bryce Drew's game-winner)
[podcast id='0']
Westwood One gets you ready for the most exciting three weeks on the sports calender with Great Moments in Tournament History, as we look back on some of the most memorable teams and players in the tournament's illustrious past.