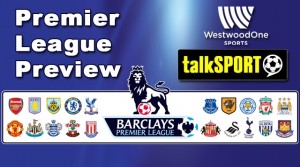 This week, Tom Rennie talks to the former Chelsea winger Clive Walker ahead of the Blues' crunch encounter with Manchester United on Saturday. Clive says Jose Mourinho won't be scared of Louis van Gaal's in-form Reds, but expects them both to be title challengers next season.
Elsewhere, former Burnley striker Chris Iwelumo tells us the Clarets need three points at Everton if they're to stand a chance of survival this season, Chris Perry (former Tottenham, Southampton, Charlton, West Brom) says Manchester City are in freefall so will be delighted to see West Ham arrive at the Etihad on Sunday, and Andy Penders of Red Card Sports Radio Singapore (one of talkSPORT's Global Audio Partners) plays 'Tom vs. the World'.
(Listen to the BPL Preview Show for 4/16/15)
You can listen to EVERY Barclays Premier League game this season right here on WestwoodOneSports.com as well as on the TuneIn Radio App for mobile – search for 'talkSPORT'." This weekend's coverage features the big one on Saturday, Chelsea vs. Manchester United, beginning at 12:15 PM Eastern.