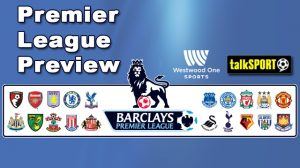 This week, we're talking about the Mourinho meltdown with the former Chelsea winger Clive Walker. The Blues take on Liverpool this weekend… will it be Mourinho's final match in charge? Clive says Jose is still the right man for the Stamford Bridge job… do you agree?
Elsewhere, the former Crystal Palace and Millwall defender Matt Lawrence looks at the rest of the Premier League fixtures this weekend, our Bundesliga expert Kevin Hatchard assesses Jurgen Klopp's tactics at Liverpool, the former Liverpool and England midfielder Danny Murphy picks his 'Three to Watch', we hear from Stan Collymore on Tim Sherwood's sacking at Villa and Martin Devlin from Radio Sport New Zealand plays the predictor game 'Tom against the World'.
(Listen to the BPL Preview Show for 10/30/15)
You can listen to EVERY Barclays Premier League game this season right here on WestwoodOneSports.com.