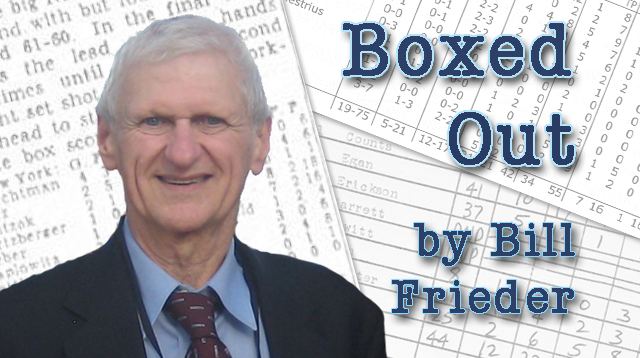 Don't look now, but Texas A&M just might be the favorite in the SEC. The Aggies have won seven in a row and are 14-2 after a solid Tuesday win over Florida. Billy Kennedy promised everyone a bid to the NCAAs after his team had a slump down the stretch last season which dropped them to the NIT. Plenty of talent along with a hunger to not fall short this year has this team in the right frame of mind. Jalen Jones is their top scorer, but their best player might be their sixth-leading scorer, Alex Caruso. He's a senior from College Station who has been playing a lot of minutes since the day he stepped on campus. Caruso will lead the Aggies to their first NCAA appearance since 2011, and this team is good enough to win the SEC. Remember this nugget… the Aggies don't play at Kentucky or at South Carolina.
Up in the Valley
The Missouri Valley always has Wichita State and usually has Northern Iowa in the mix for the NCAA Tournament. This season, Evansville enters the conversation as it tries for its first NCAA appearance since 1999. Egidijus Mockevicius is a double-double machine, while fellow senior D.J. Balentine can drop 20 on anyone. The Aces' schedule won't come up aces on the computer in March, and right now Evansville's best win is UC Irvine, but this team could win the regular season title. Keep an eye on them; 25 wins entering the MVC Tournament is a real possibility.
And out come the Wolves…
Congratulations to Eric Musselman, who has his Nevada squad playing well. In the wide open Mountain West Conference this year there is no clearcut favorite, and Nevada will be one of those teams to keep an eye on when conference championship week rolls around. Nevada has already surpassed last year's win total. Senior Marqueze Coleman is leading the way and taking advantage of the head coaching of Musselman. Remember we are talking about a guy who has coached more than 900 games at the professional level. He learned the college game in the past two years in two great leagues (Pac-12 and SEC), so he now has a feel for what needs to be done. On an even playing field, you won't find many more experienced head coaches than Eric Musselman. It was a win-win for Nevada to think outside the box on this hire as they got a proven coach with lots of energy, and Musselman got to be the main guy on the bench again.
Trivia time!
What five original Division I teams have not made the NCAA Tournament? Army, Northwestern, St. Francis Brooklyn, The Citadel and William & Mary. St. Francis fell by just three points in the Northeast championship game last year while William & Mary lost by one in the Colonial Athletic Association title game in 2014. The Tribe can win the Colonial, Army will be in the hunt for the Patriot and Northwestern will have a lot of wins, but maybe not enough quality ones. But the Wildcats will be relevant in February, which is all Chris Collins can ask for this year.
Hoops Homework
Want a game to keep an eye on Saturday? Baylor already won at Iowa State and now goes to Texas Tech. Tech needs to win its home games and Tubby will have them back in the NCAA Tournament. The problem is in the Big 12, every game is tough. Elsewhere, Marquette hosts Xavier. The Golden Eagles could do damage in the NCAAs, but they've got to get there first. Their RPI is low right now, but big wins would help. Toppling the #7 Musketeers would fit the bill.
– Bill Frieder
Former Michigan and Arizona State head coach Bill Frieder is an analyst for Westwood One's coverage of NCAA Basketball. In his weekly blog Boxed Out, Bill scours the box scores to bring you interesting stories from the world of college basketball.