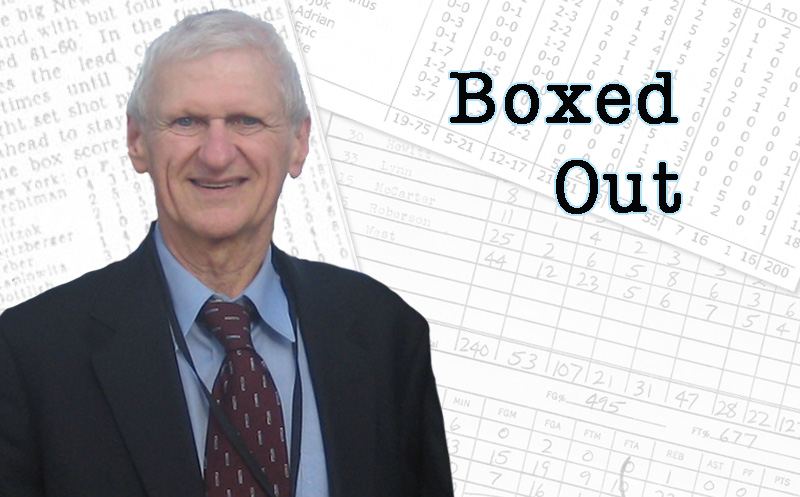 It was a big thrill doing the Kentucky-Kansas game last weekend and it was only fitting the game went into overtime because no one wanted it to end. All the history and tradition is beyond belief and includes Dr. James Naismith, Phog Allen and Adolph Rupp…yes, Adolph Rupp. He played there along with Dean Smith and Wilt Chamberlain. At halftime, the original rules of the game, which were bought at auction by a Kansas booster back in 2010, were returned to Lawrence. Made me think of the photo I've heard exists of Rupp and Allen talking to Dr. Naismith. Boy, would that have an amazing price tag. That is probably the greatest photo in the history of college basketball.
Super February leads to Moc Madness?
Isn't it Super that it's February? Sure, the distraction this week is in the Bay Area, but guess what? March Madness is right around the corner, so we are gong to try and take a look each week at some teams that maybe you don't know as much about, but which could be Cinderella when the Dance comes. Looking at some teams, one jumped off the page – Chattanooga. The Mocs are 19-3 and incredibly scored 125 the other day against The Citadel. Chattanooga has wins over Georgia, Illinois and at Dayton, so that is good enough for me that they can make some noise in the postseason. The Mocs ended Dayton's 26-game home streak. Eight players are averaging between seven and 13 points, led by senior Casey Jones, while 6'10" Justin Tuoyo controls the front line. First-year head coach Matt McCall is a product of the Billy Donovan coaching tree, so if they can win the SoCon tournament, they will be a tough matchup for someone in the first round.
Off to a Flyer
Speaking of Dayton, Archie Miller continues to roll right along. Remember the weekend before Christmas? Of course you don't, you were too busy and that feels like such a long time ago. The Flyers have lost just once since then and are on a six-game win streak. Dayton plays three of its next four on the road, but with Dyshawn Pierre getting in the flow, they are going to be dangerous. You look at their roster and they are almost all back next year as well. Dayton beat Iowa, Alabama and also told Monmouth to take a seat on the bench. The Flyers only play VCU once and that is the final Saturday of the regular season. More than 13,000 people wearing red will be ready to go on that day. Dayton has never won the Atlantic-10 regular season title. That could change this year.
Worthy of a Golden ticket?
Want a team that could win its conference tournament, but won't make it otherwise? Look at Marquette. Henry Ellenson is a lottery pick and his put-back bucket beat Butler last weekend. I don't think Marquette has the computer numbers to get an automatic bid, but you never know. I do know if they can avoid playing four games, they can win the Big East Tournament.
It's Wilder in the MAC
Want a player to keep an eye on out of the MAC? How about Thomas Wilder from Western Michigan. The sophomore guard is averaging over 18 a game and had 35 against Eastern Michigan last weekend. He made all five of his three-pointers. WMU is only 9-12, but in this league anyone can get hot in Cleveland in March.
A Cavalier approach
Last call, and it goes to Virginia, who won at Louisville, That's something that North Carolina could not do. What is amazing is the Cavaliers held Louisville to 47 points and the 16-point win was their largest road victory over a ranked team since 1995. Head coach Tony Bennett is as good as they come. Remember he led Washington State to the NCAA Tournament in 2007 and 2008 after WSU had not been there since 1994. UVA had some bumps early but a comeback win over California right after a big win over Villanova showed some toughness.
Making the extra pass
Looking for a big game on Saturday? Villanova at Providence. Purdue at Maryland. South Carolina at Texas A&M. Baylor at West Virginia. Take your pick! No need to remind you that February is Super on the hardwood too.
– Bill Frieder
Former Michigan and Arizona State head coach Bill Frieder is an analyst for Westwood One's coverage of NCAA Basketball. In his weekly blog Boxed Out, Bill scours the box scores to bring you interesting stories from the world of college basketball.