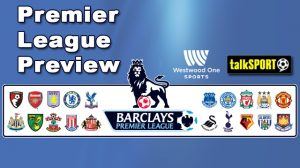 With ten fixtures to go in the season, Tom Rennie is joined by the former Tottenham defender Chris Perry to look ahead to the Premier League's most vitriolic derby as Spurs host Arsenal at White Hart Lane on Saturday. Can the North London rivals bounce back from midweek defeats to chase down league leaders Leicester?
The former Manchester City captain Steve Lomas was stunned by how poor the Citizens were against Liverpool in midweek… and wonders whether Pep might regret signing for City if they don't make the Champions League. Steve also has his say on West Ham's terrific season – another of his former clubs.
(Listen to the BPL Preview Show for 3/3/16)
You can listen to EVERY Barclays Premier League game this season right here on WestwoodOneSports.com.