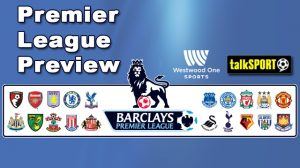 This week, Tom Rennie and guests look ahead to Game Week 30 in the Premier League and the FA Cup Quarter-Finals.
The former Tottenham midfielder Kevin Watson sees nothing but a Spurs win ahead of their trip to Aston Villa – and also assesses the title chances of Manchester City and Leicester City.
The former Arsenal winger Adrian Clarke talks up the Gunners' FA Cup chances against Watford, Steve Simonsen tries to explain why his former side Everton can't hold onto a lead and Jack Collison thinks his former club West Ham have a great chance in the FA Cup Quarter-Final against Manchester United.
(Listen to the BPL Preview Show for 3/11/16)
You can listen to EVERY Barclays Premier League game this season right here on WestwoodOneSports.com.