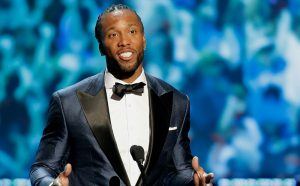 Bob Levey | Getty Images
Sunday was far from a typical day around the NFL, with players and owners responding to President Trump's Friday comments about national anthem protests with increased demonstrations. Some players chose to link arms in unity, while many dozens more took a knee. Several teams remained in their locker rooms during the anthem.
In his weekly conversation with Westwood One's Jim Gray, Larry talks about what happened yesterday, his plans for tonight's game in Arizona and answers the question of whether he would meet with the president if given the opportunity.
(Listen to Larry Fitzgerald's interview with Jim Gray from 9/25/17)
[podcast id='0']
Arizona Cardinals star Larry Fitzgerald is Jim Gray's guest each week during the Westwood One Monday Night Football pregame show. Larry Fitzgerald is brought to you by University of Phoenix.