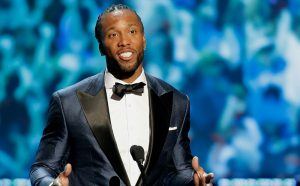 Bob Levey | Getty Images
On Sunday the Arizona Cardinals got a huge win on Sunday courtesy of Phil Dawson's 57-yard game-winning kick as time expired to beat the Jacksonville Jaguars.
In his weekly conversation with Westwood One's Jim Gray, Larry talks about keeping their playoff hopes alive, the fight between Aqib Talib and Michael Crabtree and much more – including the bizarre saga of Greg Schiano and Tennessee.
(Listen to Larry Fitzgerald's interview with Jim Gray from 11/27/17)
Arizona Cardinals star Larry Fitzgerald is Jim Gray's guest each week during the Westwood One Monday Night Football pregame show. Larry Fitzgerald is brought to you by University of Phoenix.