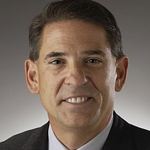 Steve Lappas is a game and studio analyst for Westwood One Sports' coverage of NCAA Basketball and the NCAA Tournament.
For more than 25 years, Lappas has enjoyed a career in college basketball with roles as both a coach and a broadcaster.  As a coach, he may be best known for his nine highly-successful seasons at Villanova University, where he compiled a 174-110 (.613) record that included six 20-win seasons, a post-season NIT championship, a Big East Tournament championship and a Big East regular season championship.  He also served as the head basketball coach at the University of Massachusetts, where he tallied the school's highest win total in its prior seven years, and at Manhattan College, where he earned MAAC Coach of the Year honors in 1992.  Lappas also served as an assistant coach at Villanova from 1984-88 and won a National Championship during the Wildcats' memorable run in 1985.  In 17 seasons as a Division I head coach, he compiled a 280-237 (.542) mark and led eight teams to postseason play (4 NCAA Tournaments, 4 NITs).
Since leaving the bench in 2005, Lappas has been working in the media as a college basketball analyst.  In 2011, he entered his seventh season as one of the primary college basketball personalities for the CBS Sports Network (formerly, CBS College and CSTV), where he appears on game broadcasts and studio shows.  In past years Lappas has also been a television studio or game analyst for MSG Network, ESPN Regional Television and CN8 (The Comcast Network). When not calling the action, he can often be heard on various sports radio talk shows across the country talking college basketball. On the web, Lappas has been a regular contributor for CBS Sports's online coverage of the sport through its popular CBSSports.com.
Lappas and his wife are the parents of two children.
Steve Lappas's Posts
HAMILTON, NY – Boston University shocked top-seeded Colgate on its home floor, winning 64-61 to capture the Patriot League title and an automatic berth in the NCAA tournament. John Sadak and Steve Lappas had the call on…
Read More »