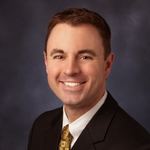 Kevin Kugler returns for a fifth consecutive Olympic Games with Westwood One. Kugler has been a play-by-play announcer and host in Beijing, Vancouver, London, Sochi and now Rio. At Rio 2016, Kugler will co-host the nightly show Tonight in Rio as well as call play-by-play of basketball and golf.
Kugler is also the play-by-play voice of Sunday Night Football on Westwood One and the lead play-by-play announcer for the NCAA Men's Basketball Tournament and Final Four since 2008.
Kugler has been the voice of the College World Series since 2003, and has done play-by-play for numerous other sports for Westwood One, including the Masters and college football.
Kugler also does play-by-play events for the Big Ten Network and Fox Sports 1 and is a nine-time winner of the Nebraska Sportscaster of the Year Award.
Follow Kevin on Twitter!
Kevin Kugler's Posts
The NCAA football season is less than a week away and the usual suspects are right at the top of the preseason polls, with defending champions Alabama and runners up Clemson ranking first and second respectively. Kevin…
Read More »