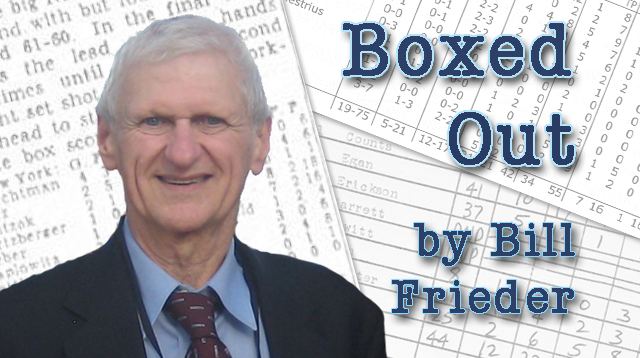 Some things are happening out there in the college hoops world that make your head spin right now. It's a great time of the year, but it also is a tough time with coaches beginning to lose their jobs and soon the coaching carousel will begin. Having said that, let's keep the focus on the kids today.
And one I want to highlight is Marquette's Jae Crowder. Why Jae? Because he has come out of nowhere and, after transferring from junior college, all he has done is work, work, work. A few weeks ago at West Virginia in a hostile game the Mountaineers needed to win for their NCAA bubble hopes, four of Crowder's teammates were on the bench for disciplinary reasons. What did Crowder do? How about 40 minutes and 26 points. Want a good final game? How about 26 points, 14 boards and five steals in a win over Georgetown that gave Marquette 14 league wins and the No. 2 seed in the league tournament. He averaged 24.7 points in his final six games. He led his team to 12 wins in 13 games at one point, and remember, this is the Big East.
Man, does the NCAA Committee have a tough case on its hands. Actually, make it two cases and it's only the beginning of Championship Week. Both Drexel and Oral Roberts won league titles but fell in their conference tournaments. Both of them won a bunch of games on the year and both played awful schedules. Drexel has a 67 RPI and is 27-6 in Division I games. But 15 of the wins were against teams who had RPIs in the 200s. The Dragons lost to both St. Joseph's and Virginia and are just 4-3 against the top-100. So you think Drexel should get in because it passes the eye test? Then you have to take Oral Roberts, because its RPI is around No. 50 and it also was 27-6. But the Golden Eagles had 15 wins vs. 200+ RPI teams too.
How bad can one loss be at this time of the year? Just like you can catch lightning in a bottle that bottle can hit you in the head like it did to Arizona on Sunday. Arizona had a nice run of wins recently, and all year had done a great job of avoiding bad losses. On Sunday, Arizona State entered the game 9-20 and had trouble with turnovers and free throws. Two hours later, ASU committed a season-low 10 turnovers and hit 22-of-24 from the free throw line. All of a sudden Arizona is on the bad end of an 87-80 score and sees its RPI drop seven spots and now everyone is looking at a very average resume. One game can make a difference not only for the good, but the bad. Right now Arizona State is that bad game for Arizona unless the Wildcats do some damage in the Pac-12 Tournament.
I really hope Michael Jordan knows how good Anthony Davis is, not just in skill but in attitude at both ends of the floor. After watching him a few times he reminds me of a great linebacker or hockey goalie, a player who wants to decide the game on the defensive end. His block numbers are ridiculous, but his timing is just as good. He will be the No. 1 pick in the draft, and right now it is hard to believe Kentucky won't be in New Orleans.
Want another player to keep an eye on? Say hello to San Diego State sophomore guard Jamaal Franklin. Franklin registered consecutive double-doubles in leading San Diego State to a pair of road wins to help the Aztecs clinch a share of their second consecutive MWC regular season title. He led all players with 18 points and 12 rebounds in a win at Boise State. In the regular-season finale at TCU, Franklin poured in a career-high 35 points in the 98-92 overtime win. SDSU has a few transfers sitting and I honestly think Steve Fisher might coach until he is 90. And who would have thought this after his first six years at SDSU when he was 81-97 and had just one NCAA appearance.
So there you go as we get ready for Selection Sunday. Next week at this time I will have all my picks and my thoughts on the selections…
– Bill Frieder
Former Michigan and Arizona State head coach Bill Frieder is an analyst for Westwood One's coverage of NCAA Basketball. In his weekly blog Boxed Out, Bill scours the box scores to bring you interesting stories from the world of college basketball.