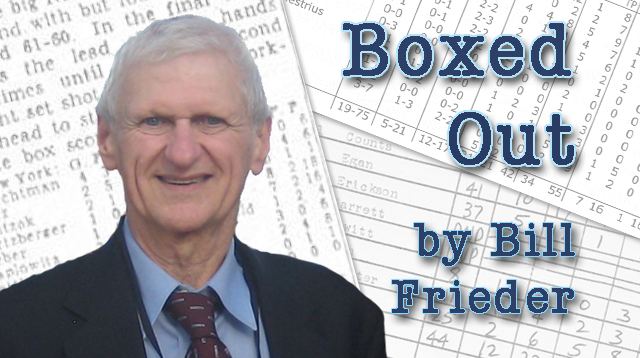 Once again we have evidence of a great postseason on the horizon as five of the top 10 lost on Saturday alone. In addition, another seven of the top 25 were beaten during the week last week. I would guess that there will be lots of surprises in the conference tournaments. The fact that teams like Michigan State, Kansas, Syracuse and Creighton were beaten shows tons of vulnerability across the board. Look for teams that are rolling right now, like Florida and Wichita State, to do well. Then again, I might have just put the kiss of death on those two.
Let the games begin… and lots of them
Can you believe conference tournaments start this week? Heck, they started already. Loyola of Maryland lost to Lafayette and Colgate beat Navy in the opening round of the Patriot League Tournament last night. Boston University, which won at Maryland in December, is the favorite here to return to the NCAAs for the first time since 2011. Maurice Watson, Jr. leads the Terriers as the 5'10" sophomore averages 13.4 points and 6.6 assists. (Editor's note: you can listen to the Patriot League Final right here on WestwoodOneSports.com – Wednesday, March 12th at 7:15 PM Eastern).
Conway, S.C., is the site for the Big South Championship (March 5-9) where High Point is the top seed and will try and make its first NCAA Tournament (Sunday 11:45 AM Eastern on WestwoodOneSports.com). The Colonial (March 7-9) has Delaware as the favorite in Baltimore as it will try and make the NCAAs for the first time since 1999 (Monday 3/10 at 6:45 PM Eastern). Green Bay is the favorite in the Horizon League (March 4-11), where the higher seed hosts every game, and remember Green Bay beat ACC champion Virginia this year. If Green Bay wins the automatic bid, get ready to learn about Chicago's Keifer Sykes, a 5'11" guard averaging 20.4 points and more than five assists per game.
The MAAC (March 6-10 in Springfield, Mass.), Missouri Valley (March 6-9 in St. Louis – Sunday 1:45 PM Eastern), NEC (March 5-11 at higher seeds; Tuesday 3/11 at 6:45 PM Eastern) and Ohio Valley (March 5-8 in Nashville – Saturday at 6:45 PM Eastern) also get going soon. Bubble teams across the nation will hope Wichita State wins the bid out of the MVC and doesn't let another team in the NCAA Tournament. Only Indiana State (21-9) probably has a realistic shot at beating Wichita State, I think.
But the one I have my eye on early is the WCC, where BYU and Gonzaga both have done enough to be in NCAA Tournament discussions without the automatic bid, but don't sleep on San Francisco or St. Mary's. Gonzaga has an RPI of 27, BYU is at 36 and beat Stanford and Texas away from home and boasts a victory over Gonzaga. Look for a non-conference SOS in the top 10 to be the difference in BYU earning a bid as long as it beats the Portland/LMU winner and then the San Francisco/San Diego winner. But remember to keep an eye on San Francisco. (I'll be at the championship game for WestwoodOne. Next Tuesday 3/11 at 8:45 PM Eastern.)
Something else on the Horizon
It is very difficult to beat a good team three times in one season and particularly so if that third meeting happens to be in the championship game of a conference tournament. Right now the experts have Green Bay penciled in as the Horizon League representative, but I don't think the Phoenix get an at-large bid to the NCAAs if they lose in their conference tourney. If all goes as planned, Green Bay will match up with Cleveland State in the championship game on March 11th in front of their home crowd. Cleveland State (21-10) is 10-2 over their last twelve games and 8-2 over their last ten road games. The Vikings shoot the ball well with three players shooting better than 42% from the three point line. I expect Cleveland State to be ready for revenge after losing by double digits both times to the Phoenix this season.
– Bill Frieder
Former Michigan and Arizona State head coach Bill Frieder is an analyst for WestwoodOne's coverage of NCAA Basketball. In his weekly blog Boxed Out, Bill scours the box scores to bring you interesting stories from the world of college basketball.