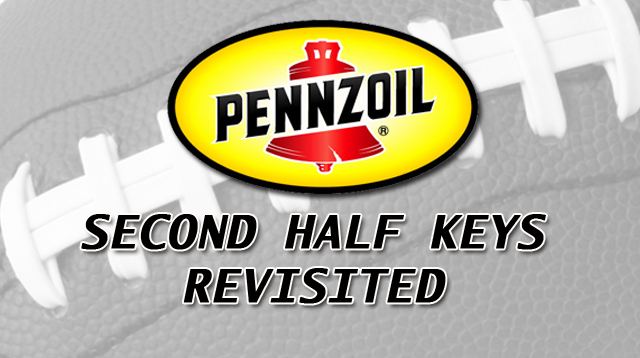 Each week, we'll look back on what our expert analysts thought each team needed to do to secure victory in our NCAA Football broadcasts, brought to you by Pennzoil.
September 1st: Halftime score: Clemson 13, Auburn 10
(Listen to Terry Donahue's Keys to the Second Half from our broadcast)
 

Auburn: Terry's mission for Auburn was simple – run the ball, particularly with Tre Mason, who had 47 yards on just four carries in the first half.
Auburn Verdict: Mason's workload increased significantly after halftime, rushing an additional 10 times for 59 more yards. Mason's hard running was a key to Auburn keeping the game close throughout.
Clemson: Discipline was Terry's order: avoid the mistakes and costly penalties.
Clemson Verdict: Clemson played a penalty-free second half, but one big mistake could've cost the Tigers. With the score tied at 16-16, Tajh Boyd committed Clemson's only turnover of the game on the first play of the 4th quarter, setting Auburn up with a short field. But Gibson's defensive teammates were able to pick him up. Aided by an Auburn holding penalty inside the 10, the Clemson defense held Auburn to just a field goal. When Boyd hit DeAndre Hopkins for the go-ahead touchdown on the very next drive, Clemson never looked back.
Final score: Clemson 26, Auburn 19
September 3rd: Halftime score: Virginia Tech 7, Georgia Tech 7
(Listen to Rod Woodson's Keys to the Second Half from our broadcast)
Virginia Tech: Rod's plan for the Hokies was to establish the running game and keep Logan Thomas from throwing too many passes.
Virginia Tech Verdict: After gaining just 47 yards on 21 carries in the first half, the Hokies plugged away on the ground as long as they could, adding another 49 yards on 14 carries after the half. But in the end, it was the heroics of Logan Thomas that led Tech back from near-certain defeat.
Georgia Tech: For the Yellow Jackets, Rod felt they needed more of the same: strong defense and a big half on the ground.
Georgia Tech Verdict: Tech got its spread option rolling, picking up  137 yards on the ground. Their defense also played a solid half, giving up only a few big plays. The problem, of course, was that those few big plays were enough to allow Virginia Tech to tie the game in regulation and win it in overtime.