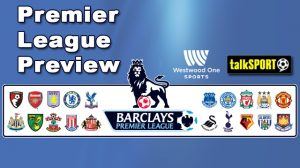 Can Tottenham challenge for the title this season – or will they just make the top four? Spurs are 12 Premier League games unbeaten, they walloped West Ham last weekend and host 15th-placed Chelsea on Sunday. We'll be asking the former Spurs defender Chris Perry his opinion.
For Chelsea, a morale boosting win in the Champions League makes it two wins in a week… the former Blues winger Clive Walker joins us to assess their chances at White Hart Lane. Clive also dismisses any talk of a fallout between Jose Mourinho and Diego Costa.
We're also talking Leicester vs Manchester United – with the Foxes hoping to stay top of the table for another week.
Elsewhere, Tom Rennie is joined by Matt Lawrence to look at the best of the rest, including at his former club Crystal Palace, and the former Liverpool and Fulham midfielder Danny Murphy picks his "Three to Watch" this weekend.
(Listen to the BPL Preview Show for 11/27/15)
You can listen to EVERY Barclays Premier League game this season right here on WestwoodOneSports.com.