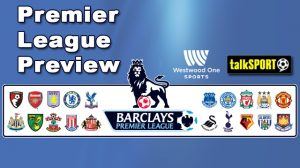 On the show this week, Tom Rennie is joined by the former Arsenal winger Adrian Clarke to talk about the Gunners getting through their injury problems and through in the Champions League.
The former Chelsea winger, Clive Walker, is asked how the Blues can lose to Bournemouth and yet win their Champions League group.
The former Manchester United and Republic of Ireland midfielder, Alan McLoughlin, reflects on United's 0-0 draw with West Ham, and getting knocked into the Europa League, ahead of their trip to Bournemouth.
We'll also be getting talkSPORT reaction from Swansea City – as they've sacked manager Garry Monk.
Matt Lawrence, the former Crystal Palace captain, looks at the rest of the weekend. Matt Holland, once of Ipswich and Charlton, picks his 'three to watch' and Joe Tolleson, Executive Producer and Presenter for our partner station SiriusXM, plays the predictor game 'Tom against the World'.
(Listen to the BPL Preview Show for 12/11/15)
You can listen to EVERY Barclays Premier League game this season right here on WestwoodOneSports.com.